West Brook Sr High School


Class of 1990
In Memory
Chris LaRocca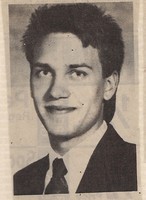 Chris LaRocca, a senior at West Brook Senior High School, died on Thursday, June 14, 1990.
A native of Beaumont; Chris was born May 20, 1971. He is the son of Nick and Linda LaRocca. Chris has a younger brother, Nicholas; his paternal grandparents, Frank and Virginia LaRocca; maternal grandparents, Elmo and Edith Hansen; aunts and uncles Dale and Jan Reese, Gary and Judy Syptak, Joe LaRocca and Vita Albert.
Chris was a kind and generous friends. He cared more about others than he did himself, and will be greatly missed by many.
He attended St. Jude's Catholic Church in Beaumont and worked part time at Kroger and Phoenix Industries.
A mass of Christian Burial will be celebrated at 10:00 a.m. Saturday, June 15, 1990 in St. Jude's Catholic Church, 6825 Gladys Street, Beaumont, Texas by the Reverend Richard DeStefano. A Christian Vigil was held Friday evening at Broussard's Mortuary Beaumont Chapel.
Serving as pallbearers will be Travis Read, Chris Swanson, Brian Waguespack, Alex Topol, Brandon Metz and Mark Nevlud. Honorary pallbearers are Michael Golightly, Jason Lily, Brian Wulf and Greg Syptak. Burial will follow in Forest Lawn Memorial Park.
Please pray for Chris's eternal rest and for the comfort of his family and friends. May God hold Chris in the palm of His hand for all eternity.
Obituary provided by Erika Rorer